Explore a range of knife cutting machines for different industrial applications
What is a CNC knife cutting machine?
  The combination of pendulum knife, thread cutter, drag knife and milling cutter constitutes CNC knife cutting machine. This robust cutting tool offers greater versatility for high-precision cutting of heavier flexible and semi-rigid materials.
  This high-precision CNC machine tool is equipped with various knives and blades. The blade of the cutting tool moves across the surface of the material following a configured tool path. You can cut material by moving only the knife or both the knife and the material.
  From apparel to knitting, packaging, graphics, leather and textile industries, large manufacturing companies use CNC knife cutting machines for all types of materials involving tasks such as cutting, routing, creasing, scribing, plotting, hole punching and more.
  Also known as a vinyl cutter or sign cutter, this machine's distinguishing feature is that it can cut material by pressing the tool into it.
  Unlike other tools such as rotary tools, laser machines, or water jet cutters, CNC knife cutters transfer no heat as they cut material. Thus, the machine's knives and blades remain clean, simple and preserved in different environments.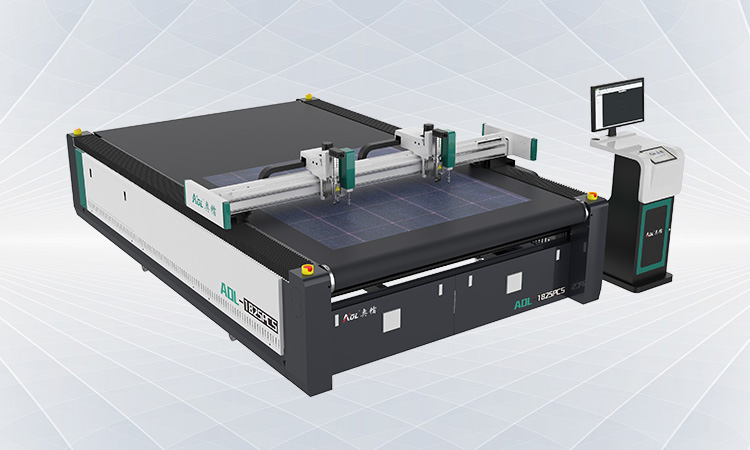 Different types of knives and their functions?
  CNC knife cutters, also known as digital cutters, are helpful in processing various materials with multiple cutting heads.
  With multiple cutting heads, you can ensure that the machine is configured to meet your unique business needs.
  When combined with different cutting techniques, the machine offers versatility by offering a milling spindle and two knives which can be tangential, oscillating drag, vinyl or a combination thereof.
Drag Knife: 
  This knife is used to cut different materials with the speed and precision of a CNC router. Drag knife cuts a variety of materials to a depth of 1/4 inch. The tip of the blade is slightly offset from the center of the chuck so that the knife can rotate in the direction the CNC machine is moving.
  From the utility knife blade in the block to the blade made of hardened alloy, this knife is custom made. Drag knives can be easily installed and replaced, but the only trouble you may face is the abrasive. More material is thicker; the blade may create more friction, pushing the material away from its position.
Thread cutter:
  With the exception of drag tools, this type of knife is controlled by a motor. Thread cutters are inherently stronger and can process thicker, heavier and harder materials very smoothly.
  It is used for processing thick and hard materials. This knife's multiple blade options help cut through a variety of harder and heavier materials. It allows the machine to accurately cut square corners and maintain part accuracy.
  The thread cutter system has a range of optional and interchangeable blade holders to cut rubber, composites, pipe linings and a mix of soft and semi-rigid materials.
Vibrating Knife:
  This type of knife option is considered one of the most important options for businesses helping to process flexible materials such as packaging foam, foam core, alligator foam, corrugated plastic, and cardboard. The oscillating knife cuts through materials with ease, with clean, fine edges and virtually 0% chance of galling.
  The oscillating knife system ensures accurate, even cuts on thicker materials without overcutting. Oscillating knives are versatile in nature, capable of cutting a variety of materials while maintaining minute details and curves.
Crease wheel:
  Commonly known as a rotary knife, it is used to cut difficult-to-grind materials. Hardness is one of the strengths of this type of tool. Due to its hardness, the creasing wheel resists abrasive compounds and reduces friction. Serrated tools, on the other hand, add enough stress when cutting to cause deformations such as stretching and tearing.
Kiss Cut Knife:
  A cutter is a special tool for cutting vinyl. The depth of cut of the tool is controlled by downward depth pressure. This type of knife can be easily installed without removing the spindle. It is an efficient plotter for creating different patterns on materials. With the help of the Kiss Cutter, the cutting process becomes easier and more efficient.
  The CNC knife cutter is fully programmable and features 360-degree servo rotation in single or double-knife configurations. Available cutting heads include swing, drag, kiss, crease and bevel.
  Cutters are standard on all digital finishing machines and optional on all CNC routers and plasma machines. But the capabilities of the machine depend on the speed and the kind of material used.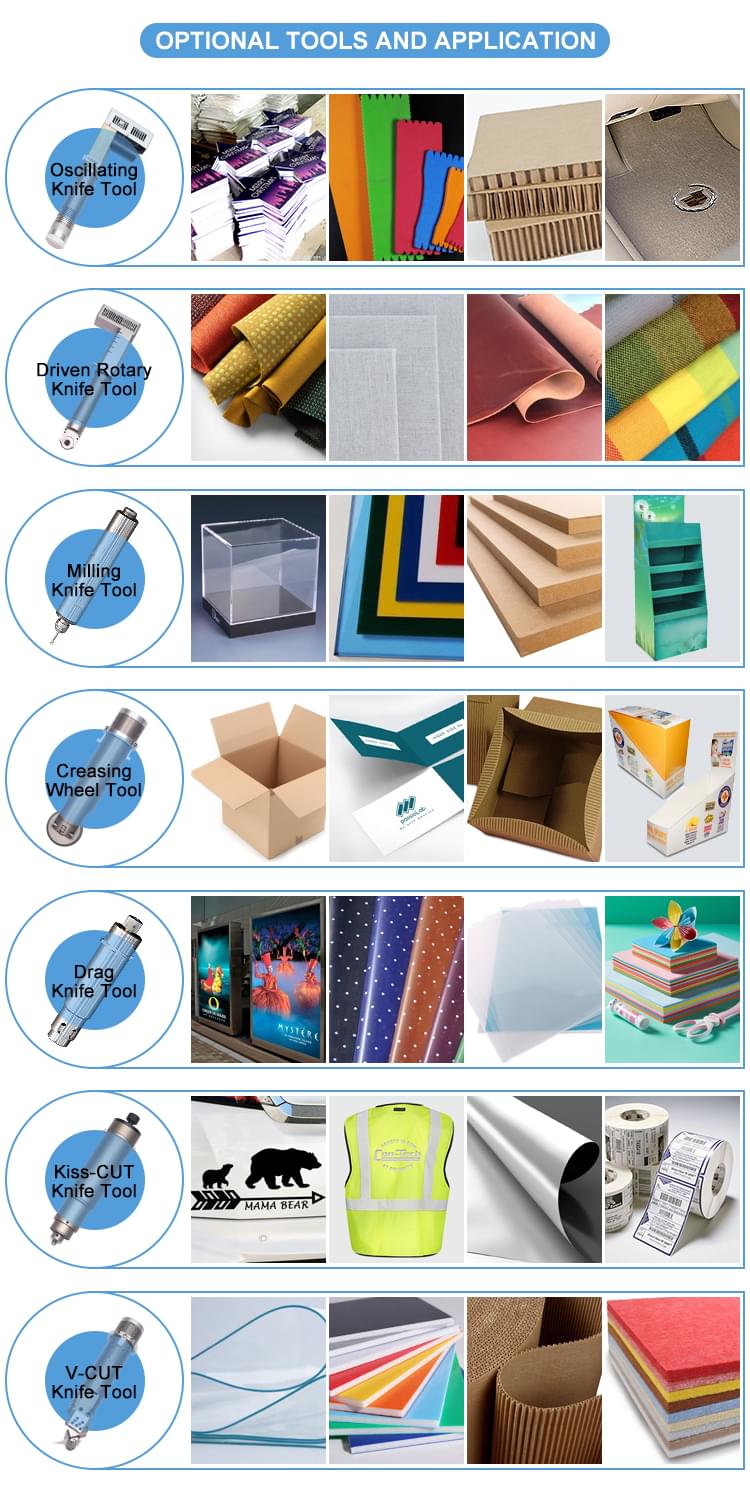 What industries does CNC knife cutting machine serve?
  Knife cutters have the flexibility to cut materials with high precision. Both small and large industries are looking to the help of CNC knife cutting machines. Compared with manual operation, CNC machine tools have doubled the production level.
Industries served by CNC knife cutting machines include:
leather:
  Processing leather is now economical. Unleash your creativity with a CNC knife cutter. This digital cutting system increases productivity and flexibility in the leather industry.
  Now you can process leather, soles, linings and uppers with optimum precision.
Fashion and Apparel Industry:
  Fabric cutting machines have been helping the world's leading apparel manufacturing companies maximize quality and profitability and bring products to market faster, smarter and better.
Graphics industry:
  Whether cutting intricate graphics or banners, cutting and routing is easier than traditional techniques with the help of advanced digital cutting machines.
  Cutting solutions from CNC knife cutting machine technology are engineered to meet your needs and deliver the quality and productivity you expect.
Packaging industry:
  Packaging plays an important role in protecting products and ensuring their safe delivery. A good packaging carton, folding box, honeycomb box, cardboard folder, etc., is created with a versatile and easy-to-use digital CNC knife cutting. It helps increase a company's productivity and efficiency while reducing production costs, downtime and waste. CNC machines help to transform your ideas into reality and present proposed designs within seconds.
Textile industry:
  No matter what type of textile you need to cut, a CNC knife cutter can help you do it faster and more efficiently.
  Apparel, upholstery, airbags, flags, sunshades/umbrellas, automotive and aircraft seats are some of the applications in this industry.
Composites industry:
  Create perfect products with the help of CNC knife cutting machines. This highly advanced machine gives you a modular, flexible, cost-  effective and scalable cutting system for processing a wide variety of materials with impeccable precision.
  It provides robust and tailor-made solutions for industrial applications such as defense, functional textiles, wind turbine rotor blades, aircraft and automotive components.
If you want to know more about the industry, please click here for more information!
  Today, more and more businesses are interested in CNC models due to their increasing popularity. The rise of new technologies has brought about earth-shaking changes in the fields of cutting, etching, engraving, and engraving.
  CNC machine tools and other machining tools have pushed manufacturers to develop more versatile and efficient machining tools. CNC machines have revolutionized the cutting process that was once done manually.
  This technology has revolutionized production and precision, dramatically improving quality and output in factories around the world.
Shorter lead times and higher productivity have greatly increased the demand for CNC machines. CNC knife cutting machines exponentially increase your capabilities by automatically, precisely and efficiently processing a wide variety of rigid, flexible and foldable materials.
If you want to know more, please contact us via E-mail: info@aolcnc.com or whatsapp: +86 18560162709!