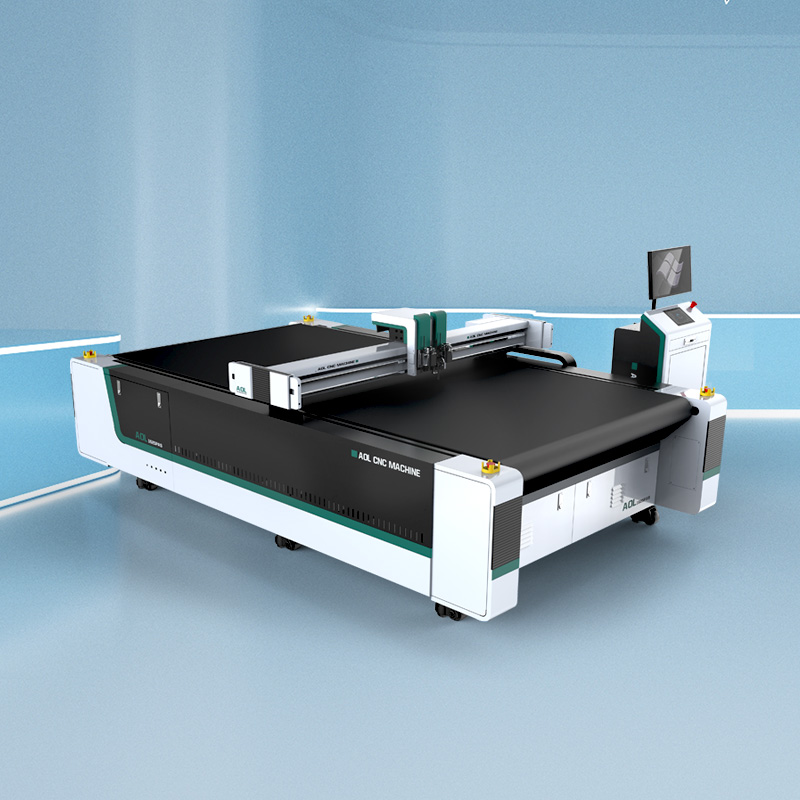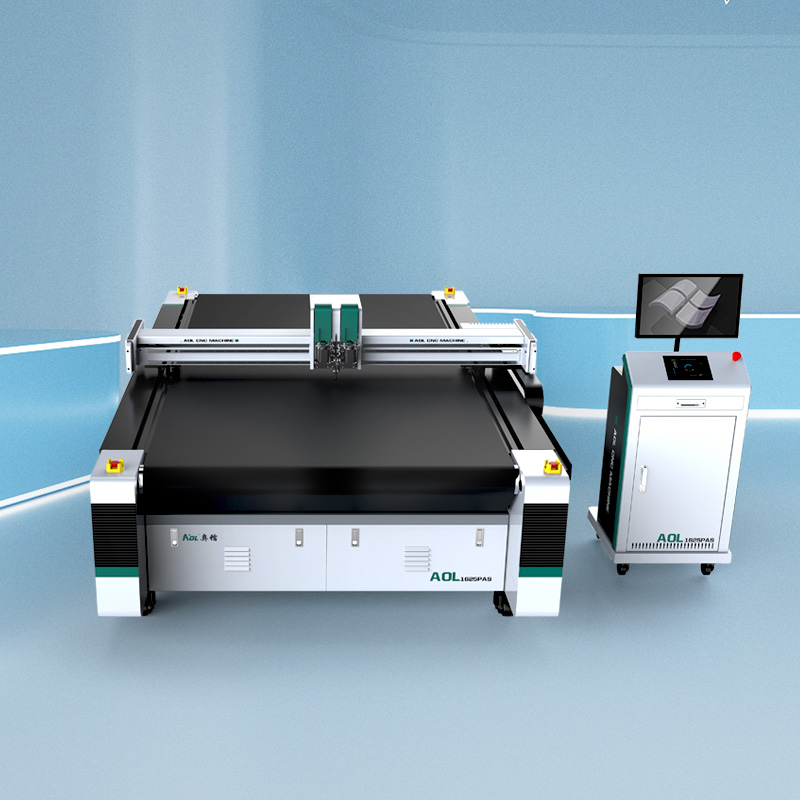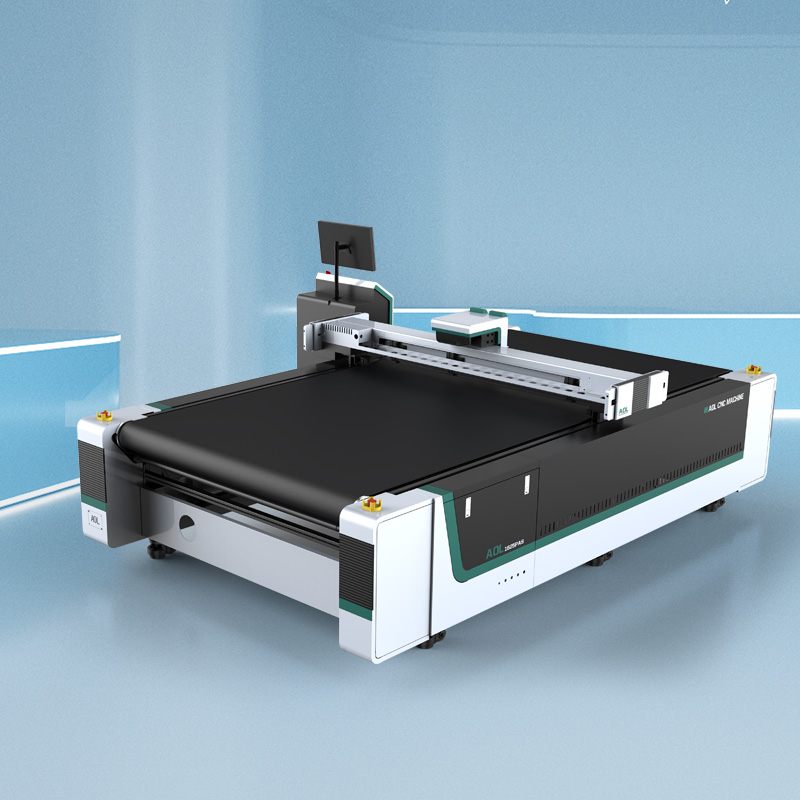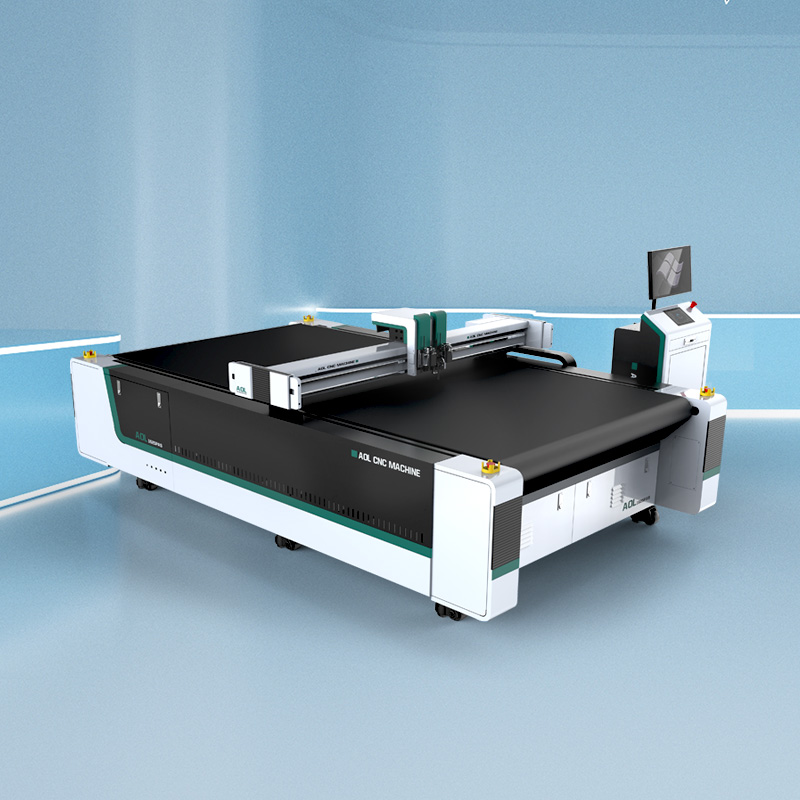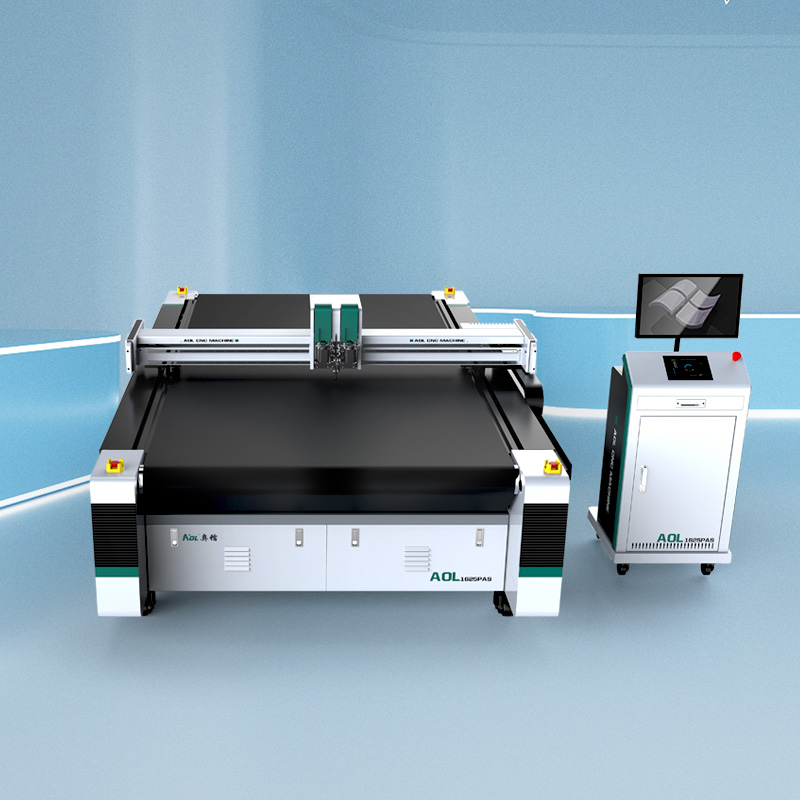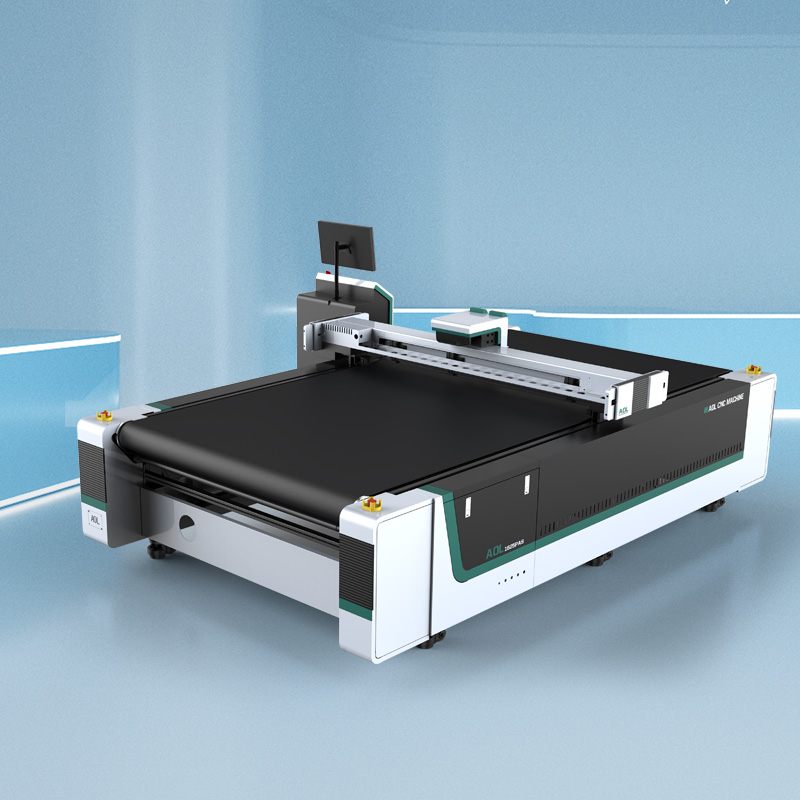 PVC Soft Glass Tablecloth CNC Cutting Machine
PVC Soft Glass Tablecloth CNC Cutting Machine. This cutting-edge equipment has changed the traditional process of PVC soft glass tablecloth cutting, providing unparalleled precision, efficiency and customization. Learn more about PVC soft glass tablecloth CNC cutting machine through this article. If you are interested, click to read in detail!
  AOL PVC soft glass tablecloth cutting machine can be equipped with oscillating knife and miter knife at the same time, to complete the cutting and chamfering process at one time. The cutting process is environmentally friendly, has no peculiar smell, and the cutting edge is neat and smooth without secondary processing. Widely used in the production of tablecloths, floors, table mats, curtains and other products.
  AOL PVC transparent tablecloth cutting machine combines three functional modules of automatic nesting, automatic feeding and automatic cutting. Tablecloths of various sizes and shapes can be quickly and accurately cut without molds to meet customer customization needs, improve material utilization and production efficiency, and reduce the dependence of PVC tablecloth cutting on labor.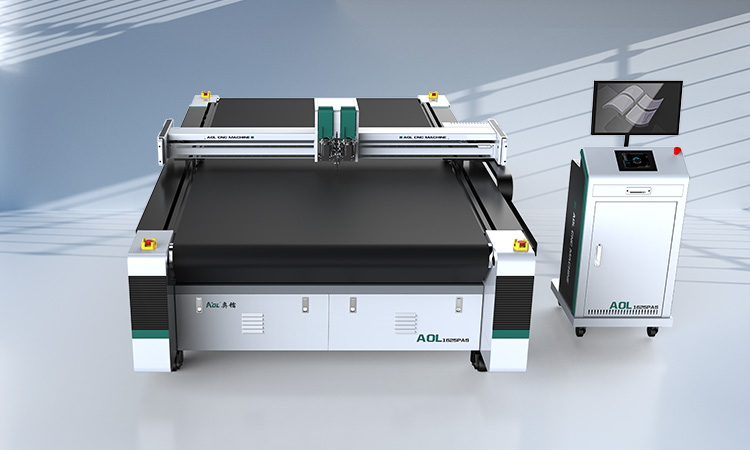 PVC soft glass tablecloth CNC cutting machine is a state-of-the-art equipment designed to revolutionize the cutting process of PVC soft glass material for tablecloths. Using computer numerical control (CNC) technology, the machine operates with incredible precision and automation, minimizing the need for manual intervention and maximizing output quality.
There are 6 advantages of cutting PVC soft glass tablecloth with CNC vibrating knife cutting machine:
1. More flexible; PVC soft glass automatic cutting machine does not need molds, just import processing data (PLT, DXF, AI format) into the system to cut, to meet customer requirements for interior design.
2. Save materials; automatic typesetting software can quickly and accurately complete typesetting without manual typesetting. After actual testing, using an automatic cutting machine can save more than 10% of the material compared to manual cutting.
3. Guarantee product quality; PVC soft glass automatic cutting machine adopts high-frequency vibrating knife cutting technology, the cutting accuracy can be controlled at 0.02mm, and the cutting arc edge is smooth and flat.
4. Realize high-efficiency production; cutting speed is fast. The polyester fiber cutting machine adopts Japanese Mitsubishi servo motor, and the cutting speed is as high as 2000mm/s.
5. Reduce the dependence of production on labor force; the CNC vibrating knife cutting machine is very simple to operate and has low requirements for workers. One machine can replace 5 workers, which solves the problems of high cost of workers and difficulty in recruiting workers.
6. Simplify the machining process; can be equipped with vibrating knives, beveling knives, and punching knives. The three processes of cutting, punching and chamfering are completed at one time without secondary processing.
PVC soft glass tablecloth CNC cutting machine parameters:
Technical parameters / model

AOL-1625

AOL-1825

Effective working area

1600x2500mm

1800x2500mm

Multi-function tool

Oscillating knife, round knife, pneumatic knife, drag knife, half cutting knife, press wheel, V-CUT Knife Tool, milling cutter, drawing marker pen, ink cartridge inkjet, cursor positioning, camera positioning edge patrol

safety devices

Four corners emergency stop, anti-collision safety device using infrared induction, safe and reliable

Cutting tool configuration
Oscillating knife or drag knife or round knife 

Cutting speed

200-1200mm/s

Cutting thickness

1mm-3mm Other thicknesses can be customized according to the material

Applicable materials

It can be used to cut Silicone Rubber Fiber Cloth similar to the material, and different configurations can be selected for different materials

Material fixing method

Vacuum partition adsorption

Transmission port

Network port

Transmission system

The X\Y axis is divided into two kinds of rack or belt

rated power

11kw

Rated voltage

380V±10%/220V±10% Optional

Control System

Chinese and English LCD touch screen

Operating environment

Operating environment Temperature 0-40°C Humidity 20%-80%RH

Support file format

AI、PLT、DXF、PDF、 PCE、XML

Overall size

3600x2400x1200mm

3600x2600x1200mm

Other configuration
Panasonic servo motor, high precision helical gear reducer, Taiwan Yintai rail, Germany Henryan rack, Omron sensor, Schneider low-voltage appliances, Taiwan Mingwei power supply, Germany cable, 42mm adsorption platform, automatic feeding, Taiwan rail, energy saving fan
  The launch of PVC soft glass tablecloth CNC cutting machine marks an important milestone in the manufacturing industry. Its integration into the production process simplifies operations, reduces human error, and improves the overall quality of the final product. As more manufacturers adopt the technology, the competitive advantage it provides becomes more apparent.
  Additionally, the customization capabilities of CNC cutting machines encourage innovation and product differentiation, enabling manufacturers to tap into new markets and cater to a wider customer base. The technology also has the potential to reshape supply chains, enabling just-in-time manufacturing and minimizing excess inventory.
  PVC soft glass tablecloth CNC cutting machine represents a leap forward in precision cutting technology. Its superior capabilities, including precision cutting, automation, versatility and customization, enable manufacturers to improve their production processes and deliver premium products to consumers. Proving the transformative power of innovation as the industry continues to evolve, this cutting-edge machine has revolutionized the way PVC soft glass tablecloths are manufactured and set a new standard of excellence in the field.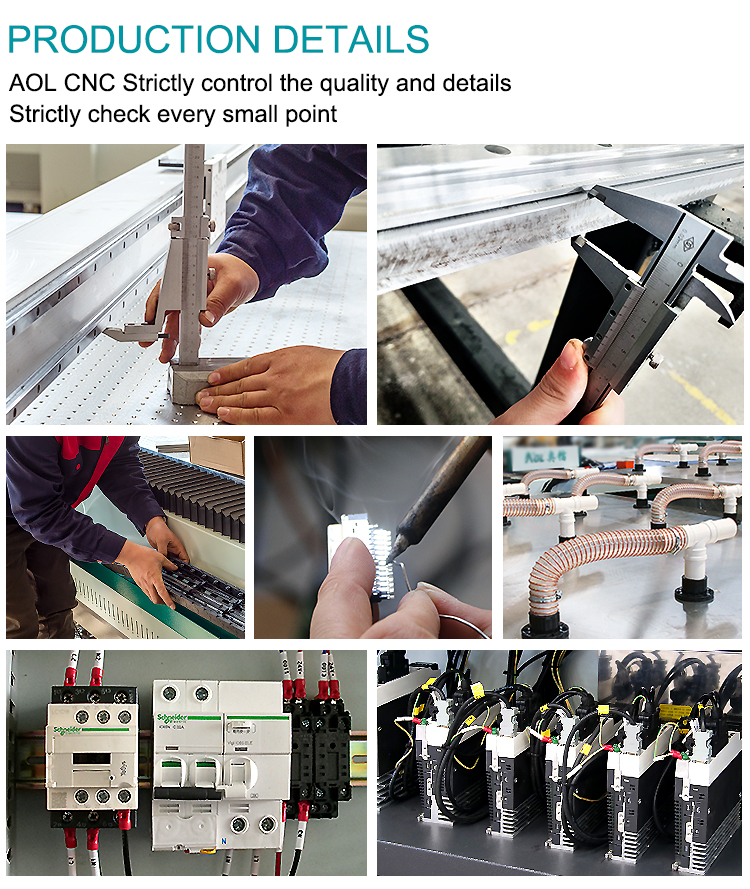 For more information, please consult:
Email: info@aolcnc.com
Phone: +86-531-88620680
WhatsApp/We Chat: 0086-18560162709
youtube: https://www.youtube.com/channel/UCDiNQSjBR5DsAX9QfkWF7AA
Website: https://www.aolcutcnc.com/